A Quick School Night Meal
Dinner ideas for busy school nights can be such a chore. Don't fret, this recipe for Cheeseburger Turnovers is easy enough the kids can help, too. (Culinary.net)
Find more recipes at Culinary.net.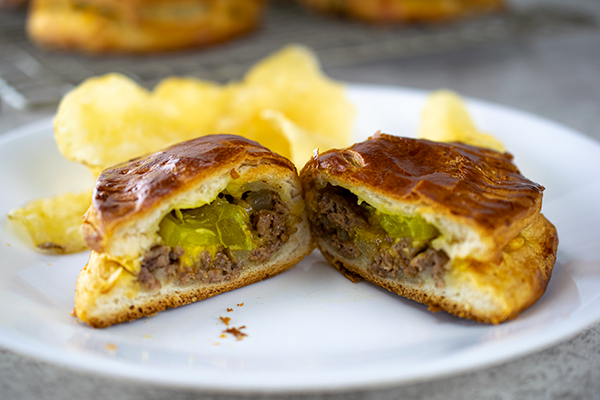 Cheeseburger Turnovers
1 pound ground beef
1/2 cup onion, chopped
2 tablespoons ketchup
1 tablespoon mustard
1 can flaky biscuits
1 cup shredded cheese
dill pickle slices, halved
1 egg, beaten
Heat oven to 375° F.
In large skillet, cook ground beef and onion until beef is thoroughly cooked and onions are tender. Drain. Stir in ketchup and mustard.
Separate biscuit dough. On ungreased baking sheet, flatten biscuit dough to form 6-inch rounds. Spoon beef mixture onto one side of flattened dough. Sprinkle with cheese. Top with dill pickle half. Fold dough over filling. With fork tines, press dough edges to seal. Cut two slits in top of dough to release steam.
Brush each turnover with egg wash.
Bake 18-22 minutes, or until deep golden brown.
SOURCE:
Culinary.net
Tagged:
Cheeseburger
Night Meals
sandwich
Video