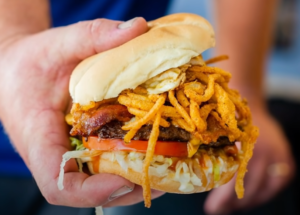 We factored in customer reviews, local and national awards, personal experience, and recommendations, and we've pinpointed every state's best burger. If it made the cut, you can count on the hamburger being excellent. If you can get there, go get at least one of these magnificent burgers.
Of all the burgers on the Chubbfathers menu, it's the Zydeco that is getting national attention. This cheeseburger has been supercharged by the addition of bacon, onion straws, lettuce, and tomato. To kick things up a notch, cajun horseradish is added as the final touch. While not for the faint of heart, the Zydeco will leave your taste buds in a state of euphoria while you're in the city of Alabaster.
Arctic Roadrunner has been the go-to burger restaurant in Anchorage, Alaska, since 1964. Its biggest hit is the Kodiak Islander, a burger that stacks salami, bologna, ham, American cheese, mozzarella cheese, green pepper, onion, tomato, lettuce, and mayonnaise on a quarter-pound beef patty. To top it off, an onion ring is added to the mix. It's a burger you'll never forget.
Rehab Burger Therapy in Scottsdale has a fun, beachy atmosphere and some of the best burgers in Arizona. Of the many choices, it's the Jalapeno Popper Burger that you really need to try. In addition to the expected fried jalapenos and cream cheese, it also has cheddar cheese and delicious guacamole to complete the experience.
With nine locations in the Little Rock area, David's Burgers is an Arkansas favorite. Each location is known to be consistently good, and if you visit one, keep it simple and order a Double Burger. The chain has a long list of available toppings that will allow you to create the exact burger your taste buds are demanding.
Keep watching to see These Are The Absolute Best Burgers In Every State!